"From the incomparable Winston Graham…who has everything that anyone else has, then a whole lot more." —The Guardian
In the enchanting second novel in Winston Graham's beloved Poldark series, Demelza Carne, an impoverished miner's daughter Ross Poldark rescued from a fairground brawl, now happily finds herself his wife. But the events of these turbulent years test their marriage and their love. As Ross launches into a bitter struggle for the right of the mining communities, Demelza's efforts to adapt to the ways of the gentry (and her husband) place her in increasingly odd and embarrassing situations. When tragedy strikes and sows the seeds of an enduring rivalry between Ross and the powerful George Warleggan, will Demelza manage to bridge their differences before they destroy her and her husband's chance at happiness?
Against the stunning backdrop of eighteenth century Cornwall, Demelza sweeps readers into one of the greatest love stories of all time. @goodreads
I will always be Team Demelza
At the back of his mind, Ross was aware of the sound of wind rushing about in the distance. Once, when he glanced out of the bedroom window, his eyes confirmed that the swell had, in fact, quite broken up and the sea was stippled with white-lipped waves, which crossed and recrossed each other in confusion, running heedlessly, colliding, and breaking up into wisps of futile spray. The wind was as yet only gusty on the land, but here and there eddies rushed over the water, little winds, vicious and lost.
***A Bit Of Spoilery Below**

And wee little Julia was born to Demelza and Ross ♥
I love these characters so much. Well, not the evil ones but I have to admit they are played wonderfully in their own right.

I am team Demelza all the way. I don't like Elizabeth and I feel for Demelza that she has to feel second best. And I course, I know what's going to happen down the line so don't even get me started.

Demelza is selfless. She does for others that she otherwise doesn't care for. She takes care of the sick and does her best to make sure no one dies.

I also love how she fights for Verity and Captain Blamey's love. She knew it was right even when everyone else were being jerks.
But there is a tragedy that strikes and it's so damn heartbreaking.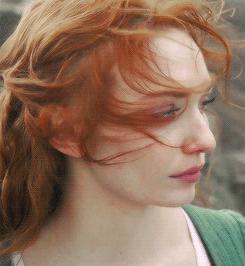 I look forward to the rest of the series in the books and the show.
Happy Reading!

Mel ♥
GOODREADS REVIEW
AMAZON REVIEW