Events are coming to a climax in the Banished Lands, as the war reaches new heights. King Nathair has taken control of the fortress at Drassil and three of the Seven Treasures are in his possession. And together with Calidus and his ally Queen Rhin, Nathair will do anything to obtain the remaining Treasures. With all seven under his command, he can open a portal to the Otherworld. Then Asroth and his demon-horde will finally break into the Banished Lands and become flesh.

Meanwhile Corban has been taken prisoner by the Jotun, warrior giants who ride their enormous bears into battle. His warband scattered, Corban must make new allies if he hopes to survive. But can he bond with competing factions of warlike giants? Somehow he must, if he's to counter the threat Nathair represents.

His life hangs in the balance - and with it, the fate of the Banished Lands.@goodreads
I'm prepared for everything to be set to rights and for me to have my happy ending in this book. Not!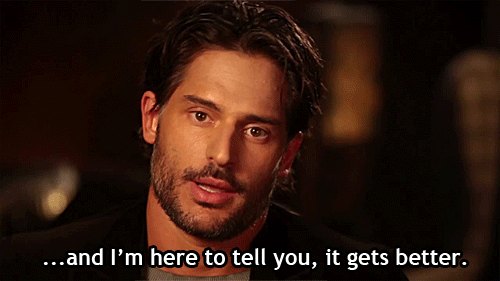 The beginning bits of this book and other parts of this book made me so freaking happy I thought I was going to fall over!!!!!!!!!!!!!!!!!!!!! Thank you, Brina! I love you, I love you, I love you! And for certain people dying!!!! Yessssssssssssssssssssssss!
And then there were the moments toward the end that you couldn't even speak to me. I was too angry and heart heavy.

Our heroes and EVIL ones battled on until their last breath through-out the book, well last breath for some! It was all freaking epic. All four of the books in this series are nothing but EPIC!
We got to watch Corban grow from a boy to a warrior through-out these books as well, with his wolf, Storm, by his side.
And Corban had the most wonderful friends. I loved them all, the ones that lived, the ones that died. Cywen: his sister. Gar: his father figure, trainer, best friend. Brina: the healer and friend. Dath: his best friend. Coralen: his friend & his love interest. Look, there are just too many people to name.

If you love epic fantasy that will rip your heart out this is the one. It's filled with bloody battles, giants, cool animals, awesome warriors, great friends and a whole lot of evil and cray.
Book 1 :
Malice
Book 2 :
Valor
Book 3 :
Ruin
Book 4 :
Wrath
These books were so awesome. Kudos to John Gwynne for this debut series. I hope more people read these books and loathe and love them as much as I did, they are truly worth it. Just don't love any characters too much - you have been fore warned

Even though more people died, I am very happy with the ending and I shed tears through the whole book from all kinds of feels. That's what makes a book a book - the feels.
And trust me, you will find those feels in this book!
FIN
GOODREADS REVIEW:
https://www.goodreads.com/review/show/1824200225
AMAZON LINK TO THE BOOK:
https://www.amazon.com/Wrath-Faithful-Fallen-John-Gwynne/dp/0316386340/ref=sr_1_1?ie=UTF8&qid=1481232523&sr=8-1&keywords=wrath+john+gwynne