Irresistibly drawn towards a group of demon hunters, Clary encounters the dark side of New York City - and the dangers of forbidden love @goodreads
STOP IN THE NAME OF LOVE! OKAY, I JUST COULDN'T RESIST =)
I have only read the first three books in the series and since I have all of the beautiful UK editions, I decided to read the whole series and get it DONE!
Things came back to me as I I re-read this first book and it wasn't as awesome for me the second time around but still good. I think it was the awesomeness of The Clockwork Angel trilogy that had me take it down a star. Anyhoo . . .

Most of you out there have read the series so I won't run on too long.

Clary and her best friend Simon walk into a bar. (I'm sorry, I couldn't help myself again) And not long after being there, Clary watches some peeps go after some dude. She follows of course and she meets the Shadowhunters: Jace, Alex and Isabelle. They are in the process of killing a demon in human form.

So forth and so on, Clary's mom gets taken by the evil Valentine. That just didn't sound right, but I digress. And Clary is attacked by a monster thing and kills it. Jace takes her back to the Institute (<---everything I say doesn't sound right) to heal some injuries and talk to Hodges.
At some point Simon shows up and he's staying there too even though there is not supposed to be humans in the Institute. But Clary is not just human so it's all good right.

Now we have the gang together.
They find out that Clary has some mental block on her memories. Well that would suck, maybe. Maybe not. Anyway, they take her to the Silent Brothers. They are creepy but I think I would like to have one as a friend to follow me to doctor appointments.
They tell Clary and Jace that there has been a big spell put on her memories and they might kill her if they try to take it away. They find out it was Magnus Bane, the wonderful Warlock, that put the spell in place.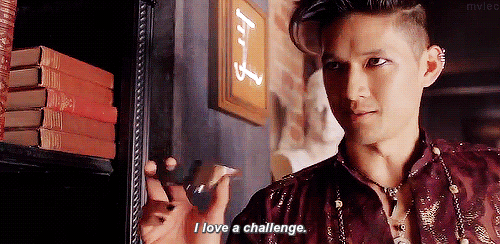 I love Magnus ♥ He's so cool. He was freaking awesome in Clockwork Angels. So, they all go off to talk to Magnus about taking the spell off. He tells them that Clary is slowly getting the memories back and to just wait it out because he might kill her. I think they need to leave her mind alone!

So a whole bunch of stuff happens at the end, some stuff that makes you go ew and some revelations.

My two favorite characters are Luke, because I love werewolves. And Magnus Bane because he is just bad to the bone!
GOODREADS REVIEW:
https://www.goodreads.com/review/show/1716798302